Our time in the wind industry has taught us that nothing will grow if you are standing still.
Wind is in our DNA. It is our legacy, our history and our future.
Somehow, it all started in Hobro in 1977, when the father of Jens and Søren Rasmussen, electrician Ove Rasmussen, set up a rebuilt Riisager wind turbine on the family farm. The wind turbine was connected to the grid – an idea that was born when Ove visited Torgny Møller in Vrinners, Central Jutland, who had experience of this type of wind turbine providing his household with decent power production.
"At that time, many people encouraged the public to utilize renewable energy, but not many people took action. And nothing will happen if we just continue to talk about it," said Ove Rasmussen in an interview for the book Vindmøller i Skjellerup 1904 - 1977.
A common passion for wind turbines.
Some of the casual talk at the dinner table often centred around the operation and technical aspects of wind turbines. And at the same time, Ove Rasmussen was involved in the foundation of "Danmarks Vindmølleforening" in 1979. In that way, Jens and Søren Rasmussen  grew up together with the wind industry.
In their own career paths, Jens and Søren Rasmussen each chose to follow their father's footsteps. Søren Rasmussen was only 18 years old when he invested in his first agriculture project. Later on, he educated himself as a farmer and, in 1997, he purchased Frandsbjerg to expand his pig production.
Jens Rasmussen trained as an electrician, and created his own consultancy in 1999. One of his first assignments was to build a platform for a NEG Micon 750, when his company was the first to integrate the transformer into the wind turbine. "I bought my first wind turbine in Aalbæk, near Skagen, back in 1999 for my hard-earned salary as an electrician's apprentice. It was a huge investment for me back then, because the reimbursement for the wind turbine was five years, and what if the turbine only lasted for three years. I still own it and it is still running, so I am quite satisfied with that investment," Jens says with a smile.
From 1996 - 2001, Jens, Søren and their father, Ove, invested in 12 Danish wind turbines, while they all were busy with their respective jobs. Jens was expanding his consultancy business with more than 20 employees, and in Denmark, Søren was busy with his agricultural business. However, he could not let go of the fact that the wind turbines would fit well into the growing investment portfolio. "I actually went on a 24-hour trip to a wind farm, near Berlin in Germany, back in 2003, to take a look at three 2MW Vestas wind turbines. They were for sale for a great price, so I called my father and brother to suggest that we could buy one each. All I got was two 'no thank-yous'. They probably thought I was crazy to want to do business with wind turbines abroad," Søren explains. Søren couldn't let go of the dream of purchasing those wind turbines in Germany, and 48 hours later, his bank gave him permission to buy all three himself. Jens, however, regretted his decision within a couple of weeks, and Søren let him purchase one of the three wind turbines – a wind turbine that Jens still owns today. The purchase of these three wind turbines was – more or less – the beginning of Eurowind Energy.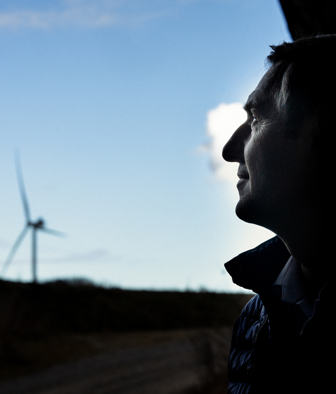 "The wind industry was started by grassroots movements and idealism, but for us, it has never been like that. From the very beginning we saw wind turbines as a natural way to produce energy."
The German market
The two brothers contacted Jakob Kortbæk, a lawyer, who for many years arranged the purchase and sale of wind turbines in Germany. They had a great chemistry and common business understanding. Together, they established Eurowind Energy in 2006 to focus on the German market, where wind turbines could be purchased more cheaply than in Denmark. By entering the German market, Jens, Søren and Jakob opened a market for Danish investors to invest in wind turbines in Germany, because in Denmark fiscal depreciation of allowances used to purchase German wind turbines was permitted.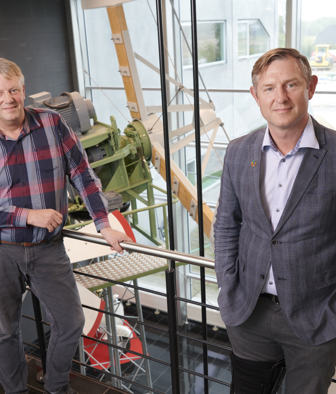 "It was definitely a turn-around for Eurowind Energy, because we went from being a buyer to also being a developer of wind projects in Denmark [...]"
From 2006 - 2009, the trio travelled around Germany purchasing German wind turbines, and at the beginning, they made sure that all three paid a visit to each site to investigate the wind conditions before a potential purchase. "We have spent hours sitting cars on the German autobahn discussing wind turbines. It was a risk going into Germany, but the fact that we didn't wait for the Danish market, is one of the primary reasons for our overall strength today. At the same time, we were able to scale things up faster in Germany based on our experience from Denmark," Jens explains.
Meanwhile in Denmark, the political landscape changed and the focus on climate change and renewables increased. The team really entered into the Danish market in 2008-2009 with Søren's network within agriculture as a leading force. "It was definitely a turn-around for Eurowind Energy, because we went from being a buyer to also being a developer of wind projects in Denmark. The first person we hired in Denmark was a farmer, and we have increased the number of former farmers in our Danish department, because it is often farmers that have wind turbines on their land," Søren explains.
In 2009, when Jens returned to Denmark to become CEO of Eurowind Energy, the company had had to relocate from an old cookie factory to the current HQ in Hobro – a location that back then already had the facilities to accommodate almost one hundred employees. Jens elaborates: "We were only around 10 people at the beginning, but we quickly managed to do so well that we could employ more great people to negotiate land leasing and obtain the necessary building permission – all the necessary things to get wind projects approved." Things continued to develop, and we expanded our business to Poland in 2010 and Romania in 2011.
From 2009 - 2016, we have expanded the building to twice the size, and we expect to keep growing. In 2016, we opened our office in Portugal, focusing on the development of PV projects in southern Europe, and we started doing business in Italy and Spain too. We also opened up in Sweden in 2016 and acquired a larger development portfolio. In 2018, we became co-owners of French wind developer, VENTELYS Energies Partagées – a company that develops wind projects in France. The Bulgarian market also became a part of our business in 2019, but it was later, in 2021, that we established our Bulgarian entity, EURA Energy AD, together with Renalfa AD. A Uk based business was founded in 2019 and the growing UK team opened an office in Scotland in 2022.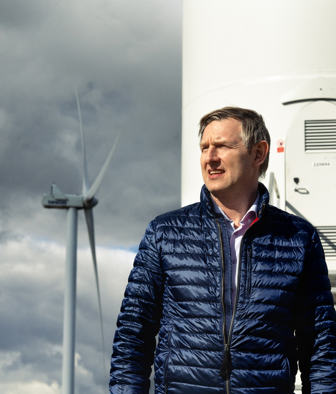 "For us it has never been like 'renewable energy is alternative'. For us, it is all the other forms of energy generation that become the alternatives."
Eurowind Energy merged with Eniig Renewables in 2019 enabling us to develop even further. We enhanced our activities to the UK in 2019 and acquired the German wind developer, Wenger-Rosenau Windenergie GmbH & Co. KG in the same year.
We also purchased SE Blue Renewables from PFA and Norlys, which at the time had 184 MW in operation and project Overgaard Wind Park consisting of 26 wind turbines.
In 2020, Norlys and Eurowind Energy together established Norlys Energy Trading, a European powerhouse for commercial energy trading. We also opened our Slovakian office in 2020.
In 2021, Eurowind Energy established the American subsidiary, Eurowind Energy USA LLC, and the former Country Manager for Denmark, Bo Schøler, will be President of the American subsidiary. We also entered into the Finnish market by opening our office in Helsinki in 2021.
According to Jens and Søren, the journey is far from over: "The wind industry was started by grassroots movements and idealism, but for us, it has never been like that. From the very beginning, we saw wind turbines as a natural way to produce energy. A natural way that could be commercialized. For many years, we have heard politicians state that we can't afford the green transition, and then – just a couple of years after – learned that we can't afford not to," Søren states, and Jens continues: "For us, it has never been like 'renewable energy is alternative'. For us it is more like that it is the other energy forms that are the alternative ones. Our time in the wind industry has taught us a lot, and one of our key take-aways is that nothing will grow if you are standing still. Over the years, we have built a strong culture with very competent employees, so it will never be capital that limits our potential to grow, when the human resources are present."
Our overall vision is clear: we want to play a significant role in the future energy society. The green transition is based on a dedicated and focused effort to develop, build, operate, and optimize renewable energy, and at the same time secure an integration of the newer technology solutions within renewable energy (PtX technologies) in our energy parks.
A partnership for the future

Eurowind Energy is in a 50% associated partnership with Norlys.
Corporate Social Responsibility
We are a company focused on pioneering solutions to the challenges of the future power system.
We aim to improve the quality of life of all people, because creating a world fueled on renewable energy provides us all with a cleaner and better future. Our CSR plays a vital role in our existence and operations, and it contributes to our core values that influences on our daily work and future goals.  
Corporate Social Responsibility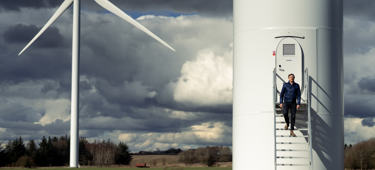 Board of Directors
Chairman of the Board: Gert Vinther Jørgensen
Deputy Chairman: Søren Rasmussen
Deputy Chairman: Mads Brøgger
Member of the Board: Jens Ove Nautrup Simonsen
Member of the Board: Bo Lynge Rydahl
Member of the Board: Klaus Steen Mortensen
Member of the Board: Jakob Kierkegaard Kortbæk
Executive Board:
Jens Rasmussen: CEO
Uffe Bak-Aagaard: CFO